Types of Dental Implants: Various Options to Meet Your Unique Needs
Dr. Sean M. Healy offers several types of dental implants at his Santa Fe, NM-area practice. Based on your needs and goals, he will recommend the right type for you. Options include traditional, mini, same-day, and zygomatic implants, as well as the All-on-4® system. Whichever type Dr. Healy recommends, he will use quality materials and advanced technology for your implant placement. With state-of-the-art titanium and live navigation surgery, he can ensure superior, long-lasting results.
Traditional and Mini Dental Implants
Both traditional and mini dental implants are typically made of titanium posts, which Dr. Healy will place in your jawbone during a minor surgery. After the procedure, the implants will fuse with your bone tissue and replicate the function of your dental roots. Once you have completely healed, the metal posts will be a fixed, permanent part of your mouth. They can then support a stable and remarkably lifelike crown, bridge, or denture.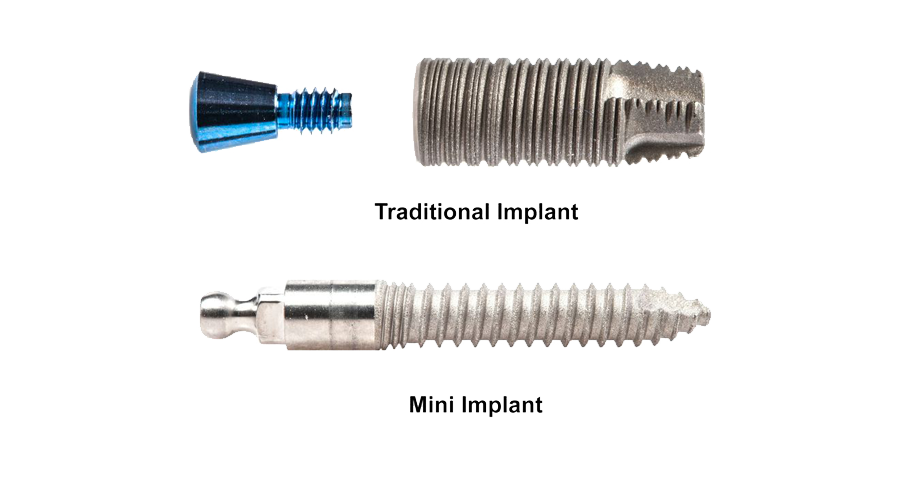 Traditional implants have a diameter of 3.5 mm or more. Because of their larger size, they are very strong and offer predictable treatment outcomes. In some cases, Dr. Healy can also provide mini dental implants. These posts are typically between 1.8 and 3.0 mm wide. Therefore, they require less bone tissue for support, and, in many cases, they can eliminate the need for bone grafting. However, because they are thinner than traditional implants, they do carry a greater risk for implant failure. For this reason, Dr. Healy prefers to place traditional posts whenever possible.
No matter what type of implants you select, you will benefit from our commitment to the latest tools and techniques.
Same-day, All-on-4®, and Zygomatic Implants
If you receive same-day dental implants, Dr. Healy will extract your damaged tooth or teeth and place your implants on the same day. This process can shorten your overall treatment time, since you will not have to wait for the sockets to heal before implant placement. In addition, Dr. Healy can attach a temporary restoration at the same appointment. Although you will still need to eat a soft diet while you are healing, your new teeth will be more realistic than a temporary removable restoration.
Similarly, Dr. Healy can use the All-on-4® method to provide implant-supported dentures in a single day. He will place the smaller implants at an angle, which will minimize the impact to your jawbone. Often, it can also eliminate the need for a sinus lift on your upper dental arch. On the day of your surgery, Dr. Healy will attach a custom-made denture, and when you have fully healed, you will come back for your permanent restoration.
Zygomatic implants are another option that may help you to avoid the need for a sinus lift. The longer implant posts will be placed in your cheekbones, rather than your jaw. These specialty implants have a higher success rate than traditional implants combined with grafting.
Advanced Materials and Implant Placement
No matter what type of implants you select, you will benefit from our commitment to the latest tools and techniques. Most frequently, Dr. Healy places implants made by Nobel Biocare®, the world's leading implant manufacturer. In other cases, he may propose ASTRA or Zimmer implants. All three brands are made with high-quality, biocompatible titanium.
Additionally, Dr. Healy will place your implants with our innovative live navigation surgery system, one of the few in New Mexico. Using the X-Guide™ by X-Nav, he can capture 3-D pictures of your jaw. These images will provide a 360-degree view and interactive, turn-by-turn guidance throughout your surgery. This allows Dr. Healy to place your implants in the strongest areas of your jaw with the most accurate angle and depth.
Contact Us to Learn More
Contact us today to speak to one of our patient liaisons or to schedule a consultation with Dr. Healy. After a complete exam and evaluation, we will help you select the right type of implants for your needs.