Our Oral Surgeons: Tooth Extraction Specialists
Dr. Sean Healy and Dr. Diego Hurtado perform dental extraction(s) at our Santa Fe, NM, oral surgery practice to restore patients' oral health. By seeing an experienced oral surgeon for your extraction, you can rest assured of a safe and effective procedure.
Our surgeons use gentle techniques to remove damaged teeth and wisdom teeth in need of extraction while preserving the surrounding bone structure. We can often combine a tooth extraction with same-day dental implants to reduce recovery and healing time.
"It was better than I could have ever imagined."
Reasons for Tooth Extraction
It is usually best to preserve a permanent, natural tooth whenever possible. Sometimes, however, a badly damaged tooth cannot be saved. If the tooth has severe decay, for instance, then removing it can prevent surrounding teeth from becoming damaged.
Some patients need to have an infected tooth extracted when a root canal has not been successful. In other cases, a baby tooth has to be removed if it has not yet fallen out when a permanent tooth is ready to take its place.
Our surgeons use gentle techniques to remove damaged teeth and wisdom teeth in need of extraction while preserving the surrounding bone structure.
If a patient is planning to receive orthodontic treatment, extraction may be necessary if the jaw is not large enough to accommodate all the teeth properly. A small percentage of patients have extra teeth that crowd together and prevent other teeth from emerging. Impacted teeth (most commonly wisdom teeth) frequently cause problems, including infections, cysts, and damage to other teeth. Even if they grow in correctly, they present a very high risk of decay because they sit so far back in the mouth.
"In my opinion, this is the only place to go."
What to Expect
Thanks to modern oral surgery techniques, having a tooth extracted is a straightforward procedure with minimal discomfort. First, our surgeon will administer local anesthesia to numb the tooth and the area around it. Our practice also offers options in sedation dentistry to provide you the highest level of comfort and relaxation.
If the tooth has emerged fully through the gums, Dr. Healy or Dr. Hurtado will perform a simple extraction. This involves loosening the tooth with a dental instrument called an elevator, and then using forceps to carefully remove it. You may feel pressure, but you will not feel any pain. If the tooth is impacted in the jawbone or broken at the gumline, the doctor will need to remove it surgically. He will make an incision to expose the tooth, and he may have to remove bone or gum tissue in order to extract it.
After the tooth comes out, our surgeon will place a few stitches over the extraction site.
Replacing the Tooth
If the extracted tooth is a permanent tooth, other than a wisdom tooth, then our surgeons will often recommend replacing it. Closing the gap will allow you to avoid difficulties speaking and eating, and will prevent remaining teeth from shifting.
Dental implants are the best solution, since they replace the entire tooth from root to crown and help retain bone mass in the jaw. Same-day implants can often be placed at the same time as the extraction is performed.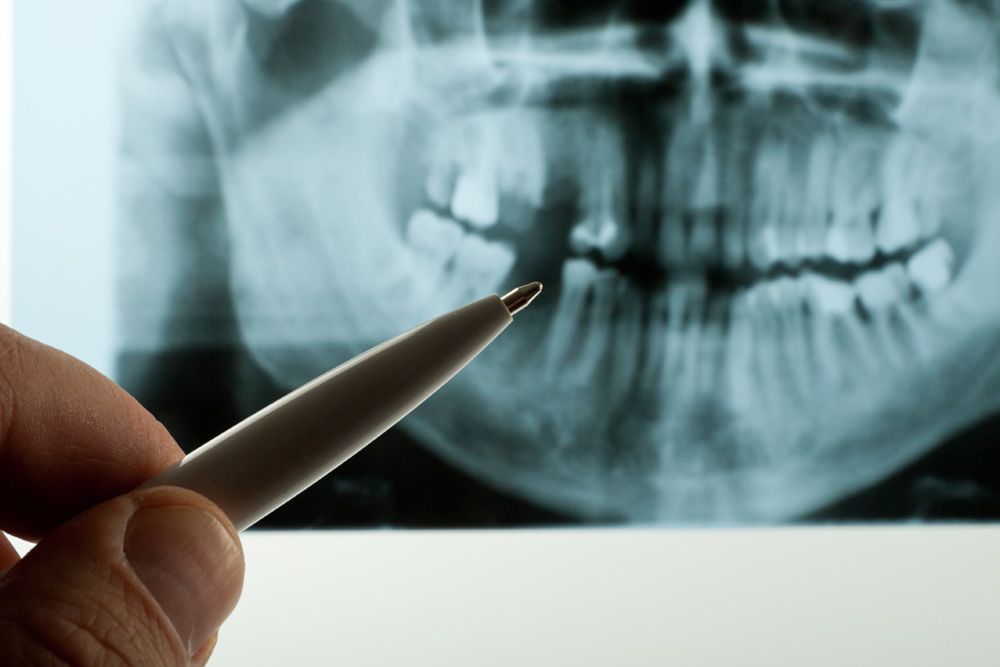 Benefits of Treatment
Tooth extraction is performed to both correct the problems associated with dental damage and decay and to restore your oral health. The procedure can also allow you to replace a damaged tooth with a state-of-the-art dental implant, which, when restored, will look and feel like a natural, healthy tooth.
If you have experienced pain from a damaged tooth, or if the tooth was damaging other teeth, then the extraction will resolve those issues as well.
Learn More
Our surgeons have many years of experience in oral surgery, and both completed extra years of training with advanced surgical techniques.
If you would like to find out more about their expertise in tooth extraction, please contact our practice today.