Some wisdom teeth erupt normally, but others become impacted or trapped, causing problems like damage, overcrowding, and discomfort.
At Oral Surgery and Dental Implant Center of Santa Fe, our doctors can provide wisdom teeth removal for cases both simple and complex.
With three locations in Taos, Los Alamos, and Santa Fe, NM, our practice is the premier destination for wisdom tooth care...
Benefits of Undergoing Wisdom Tooth Removal at Our Practice
Prevent Future Issues
Wisdom tooth removal at our Taos, Los Alamos, and Santa Fe, NM, offices can often prevent future problems, such as pain, infection, and dental crowding. Tooth extraction can also provide immediate relief for those suffering from complications.
Minimal Discomfort & Downtime
Dr. Sean M. Healy and Dr. Diego Hurtado offer several types of dental sedation to ensure that your procedure is comfortable. They also offer advanced platelet-rich fibrin (PRF) therapy to help make your recovery efficient and complication-free.
High-Quality Care
As oral and maxillofacial surgeons, our doctors have the training and experience to handle the most complex wisdom tooth cases. Other dentists often refer their most complicated cases to our team.
Wisdom Teeth Can Cause Damage
Call Us Today for Relief from Your Wisdom Tooth Symptoms
At Oral Surgery and Dental Implant Center of Santa Fe, we want every patient to feel safe and comfortable while they receive the highest level of dental care. Our doctors have extensive training and experience in wisdom tooth care, and are members of various notable organizations:
The American Board of Oral and Maxillofacial Surgery
The American Association of Oral and Maxillofacial Surgeons
The Southwest Society of Oral & Maxillofacial Surgeons
The American Dental Association
If you are experiencing symptoms of wisdom tooth complications, or if you are interested in preventive wisdom tooth extraction, request a consultation online or call our office today:
(505) 984-0694
What Our Wisdom Tooth Patients Say
The entire staff all have hearts of gold. Dr. Healey and his assistant Charlie were amazing with my wisdom teeth extraction. Not only did Dr. Healey have an excellent and professional yet warm and caring manner to him, he truly knows his stuff. I had zero fears about my surgery and I am glad my experience was with him. Highly recommended!

View On Google
Dr. Healy has performed surgical wisdom teeth removal on both my teenagers and they both had a positive experience. I noticed that even within one years time he changed his practice so when it came to my daughter we followed her regime as given and her recovery went even better than my son's. Dr. Healy has a great patient manner and develops trust with his patients. He takes his time and explains things very well. Thank you Dr. Healy for doing such a great job with both my children. The dental assistants are wonderful!

View On Google
Wisdom teeth, or third molars, typically erupt in the late teens or early twenties. As long as they erupt normally and have sufficient room to grow in the jaw, wisdom teeth function just like normal molars and patients can leave them alone. But in other cases, these molars may need to be removed to address or prevent complications.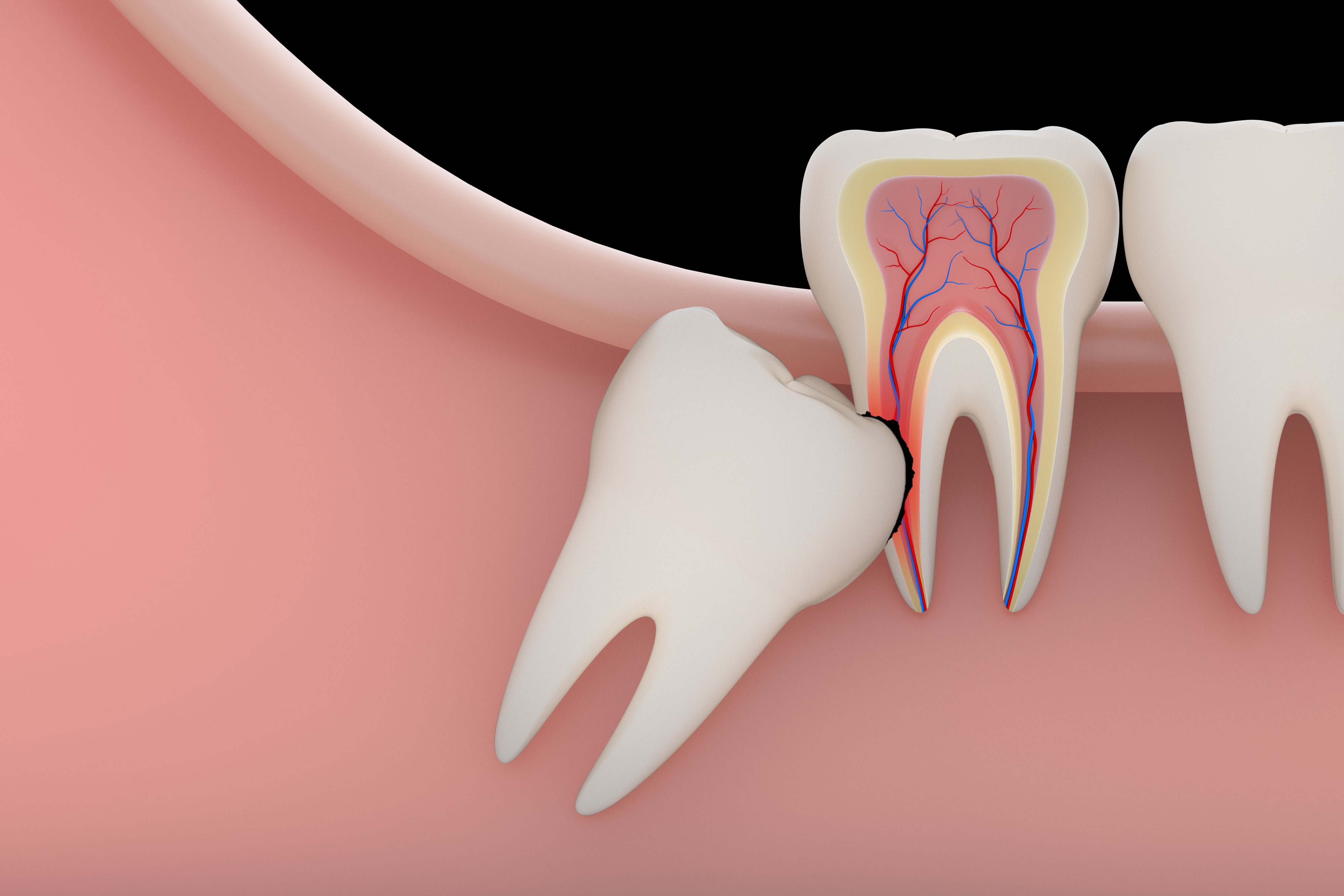 Reasons to Remove Your Wisdom Teeth

Although some wisdom teeth erupt normally, others can cause serious discomfort or complications, such as:
Impaction
For some patients, wisdom teeth may not be able to completely erupt through the jawbone or soft tissue. Impacted teeth can cause inflammation, discomfort, infection, and other issues. Bacteria can also become trapped, leading to a potentially serious infection.
Insufficient Room in the Jaw
Many people do not have enough room in their jaws for these teeth to properly erupt. As a result, wisdom teeth can often cause severe crowding as they come in. Some patients elect to have the teeth removed as early as possible when a dentist identifies this risk.
Tooth Damage
Wisdom teeth can also cause damage to surrounding teeth or tooth roots. We can remove third molars to prevent damage or treat trauma to neighboring teeth.
Cysts and Tumors
In the most serious cases, wisdom teeth can cause cysts and tumors. Our doctors can remove your third molars to address these issues or prevent them altogether.
Our doctors will carefully assess every case and only recommend removing your wisdom teeth if they believe it will relieve pain and help your oral and overall health.
Nervous about an Upcoming Wisdom Tooth Extraction?
Many people who need their wisdom teeth removed do not get the care they need because they have heard horror stories about the procedure. However, wisdom tooth extractions are relatively straightforward procedures for oral surgeons. We take extra measures to make the surgery and recovery as comfortable and safe as possible, such as sedation and sophisticated techniques that minimize trauma to surrounding tissues.
Using the Latest Technology to Plan Extraction
Each patient is unique, so each wisdom tooth extraction is carefully planned with the patient's facial anatomy in mind. When planning your wisdom teeth removal, our oral surgeons may order a computed tomography (CT) scan. This advanced imaging exam helps our surgeons:
Evaluate your tooth root positions
Avoid disrupting the nerves and sinuses
Our surgeons are renowned for their easygoing, approachable, and warm dispositions. In spite of their advanced training, they are good communicators who make patients feel informed and comfortable about their care at every step.
What to Expect during Your Wisdom Teeth Removal
Your Wisdom Tooth Removal Recovery
We recommend that you take it easy for a couple of days immediately following your procedure. You can usually return to your normal routine in about a week, but Dr. Healy or Dr. Hurtado will provide further guidance at your post-operative consultation.
Most patients will experience soreness for about three to four days. Any post-operative discomfort can be controlled with over-the-counter pain medication. Soreness and tenderness of the gums and muscles persist for about one or two weeks, and you will need to avoid brushing the extraction site directly for about two to three weeks. Most people can return to a normal diet consisting of any foods they wish after about three weeks.
A week after the procedure, Dr. Healy or Dr. Hurtado will need to schedule you or your child for a follow-up to ensure healing is progressing free of complications such as infection.
Most people can return to a normal diet consisting of any foods they wish after about three weeks.
More Reviews from Recent Patients
I had 4 wisdom teeth removed. Dr. Hurtado performed the procedure and did a fantastic job. There were no issues with the overall procedure, and the procedure was complete in about one hour. Dr. Hurtado was more than willing to answer all my questions prior to and after surgery, and his staff would also give follow up phone calls to check on my recovery and provide guidance in the recovery process. All were very friendly and helpful. I highly recommend The Oral and Maxillofacial Surgery Center of Santa Fe for all needing oral surgery.
View On Google
All the staff is helpful and kind. Dr. Healy is a wonderfuly skilled oral surgeon! I had 3 wisdom teeth removed, and i had no complications- just followed the instructuons they gave me. My surgery went super fast (like an hour to remove 3 teeth), and my pain after surgery was very minimal. My face never even swelled or bruised! Least traumatic tooth pulling experience i have ever had!

View On Google
How Much Does Wisdom Tooth Removal Cost?

At our Santa Fe, Taos, and Los Alamos, NM, offices, patients can expect to pay anywhere from $1,000 to $4,000 for their wisdom tooth removal. Most insurance plans will cover a portion of your treatment if it is considered medically necessary. If you are responsible for out-of-pocket costs, you can also finance your treatment.
The cost of surgery varies from patient to patient. To get a more accurate estimate, request a consultation at our offices.